Continue the legacy of protection
Stock the
one and only RhoGAM
A history of innovations
Throughout its over 50-year history, RhoGAM has incorporated innovations to remain the #1 selling anti-D brand.1 Year after year, RhoGAM remains a reliable choice.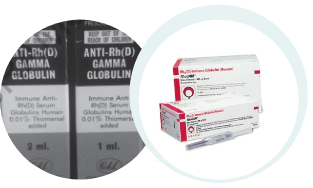 Only RhoGAM has been consistently available across 5 decades with no interruptions in supply2
1968: Approval of RhoGAM
1979: Approval of MICRhoGAM
1985: Prefilled, ready-to-use syringe available
1991: New Indications. Percutaneous umbilical cord sampling (PUBS) Chorionic villus sampling (CVS)
2001: Safety Shield. Designed to offer protection from needle sticks by completely encompassing the needle once engaged.
2007: RhoGAM Ultra-Filtered PLUS approved
2018 RhoGAM 50-year anniversary
Continue the RhoGAM legacy of protection
You can order RhoGAM through Kedrion Biopharma Customer Service or your Authorized Distributor
RhoGAM Ordering Infromation
---
| NDC # | Description | Unit Measure | Quantity Level |
| --- | --- | --- | --- |
| 0562-7805-01 | RhoGAM Ultra-Filtered PLUS | EA | 1 pack |
| 0562-7805-05 | RhoGAM Ultra-Filtered PLUS | EA | 5 packs |
| 0562-7805-25 | RhoGAM Ultra-Filtered PLUS | EA | 25 packs |
---
Customer Service Contact Information
Phone: (855) 353-7466
Fax: (855) 751-7951
Email: US_CustomerService@kedrion.com
Hours: Mon-Fri 8:00am - 6pm CT
RhoGAM is the #1 selling anti-D breakthrough that continues to make life-saving history1
The remarkable true story of one of the greatest medical breakthroughs
of the 20th century.
Before the 1960s, there was no method available to prevent Rh immunization during Rh-incompatible pregnancies, which could result in hemolytic disease of the fetus and newborn (HDFN). At that time, HDFN affected 9%-10% of all pregnancies and contributed significantly to fetal deaths in the US.3 Innovators were needed for this complex problem.
"Before it's a breakthrough it's a crazy idea."
A team of scientists were convinced that the answer could be what was then an unconventional theory. Known as passive antibody immunosuppression, an active immune response is prevented by passive administration of antibodies directed to the stimulus4-6 Based on this idea, it was theorized that administering passively administered anti-D immunoglobulin to Rh-negative mothers could help prevent Rh sensitization.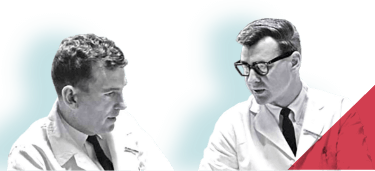 "A story of heroism and triumph.
Of brilliant science and generous empathy."
Before the 1960s, employing passive antibody immunosuppression to garner an immune response was not well received. But the research team remained dedicated to this idea to reduce Rh-sensitivity. As a result, in 1968, the FDA approved the use of RhoGAM to help prevent Rh sensitization.7 As the first anti-D product available, RhoGAM has given hope to Rh-negative mothers by protecting generations of Rh-positive babies for five decades.2,8-10