Life stories begin with RhoGAM
A legacy of life-saving science
RhoGAM Ultra-Filtered PLUS [Rho(D) Immune Globulin (Human)] is a prescription medicine given by intramuscular injection that is used to prevent Rh sensitization in Rh-negative expectant mothers.
RhoGAM may help protect your Rh-negative expectant patients from Rh sensitization. During pregnancy, Rh sensitization of the mother may lead to hemolytic disease of the fetus and newborn (HDFN) in future pregnancies.
Clinical manifestations of
h

emolytic

d

isease of the

f

etus and

n

ewborn

(HDFN)

| | | |
| --- | --- | --- |
| Congestive heart failure | Hemolytic anemia | Spleen and liver enlargement |
| Severe edema | Jaundice | Fetal Death |
|   | Brain damage |   |
When RhoGAM was first introduced in 1968, a single dose after delivery was found to lower the rate of Rh-immunization by 90%.1-3 But a small number of women were still becoming Rh sensitized due to fetal-maternal hemorrhage (FMH) occurring later in pregnancy. Further studies found that Rh sensitization occurs at times other than just at delivery, but this can be reduced by 99% if Rh-negative women receive an anti-D therapy at 28 weeks.1-3
Longest half-life of any anti-D product4
ACOG antenatal dosing guidelines are based on clinical trials:
300 µg dose of anti-D at 28 weeks' gestation was studied in clinical trials3,5
This specific dose was expected to ensure 20-30 µg residual anti-D remained in maternal circulation at delivery3
When calculating the 300 µg dose, a mean elimination anti-D half-life of ~28 days was assumed5
RhoGAM's half-life aligns with ACOG Guidelines
RhoGAM helped set the standards and clinical practice guidelines that are still followed today6
Not all pregnancies are alike
The timing and amount of fetomaternal hemorrhage (FMH) is unpredictable and can present without clinical suspicion8,9
There is natural, individual variability in the anti-D half-life10
The concentration of anti-D circulating in the maternal bloodstream late in the third trimester varies for each pregnancy10
The longer the half-life, the greater the residual level in circulation over time11
Administering RhoGAM
Routine RH sensitization prevention
If the father or baby is not conclusively shown to be Rh-negative, RhoGAM should be given to an Rh-negative mother in the following clinical situations to prevent Rh sensitization:
At 26 to 28 weeks of pregnancy

After delivery of an Rh-positive baby
Other times of prevention
Maternal or fetal bleeding during pregnancy from certain conditions

Actual or threatened pregnancy loss at any stage

Ectopic pregnancy

Amniocentesis

Chorionic villus sampling (CVS)

Manipulative procedures

Other obstetrical trauma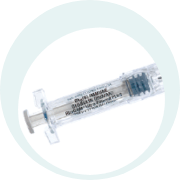 A 300 µg syringe neutralizes up to 15 mL Rh-positive red blood cells (RBCs)—the equivalent of 30 mL fetal whole blood7
RhoGAM is intended for maternal use only and should not be administered to the newborn infant.
Additional doses of RhoGAM are indicated when the patient has been exposed to more than 15 mL of Rh-positive red blood cells. This may be determined by use of qualitative or quantitative tests for fetal maternal hemorrhage.
For complete dosing and administration information, click here for the RhoGAM Full Prescribing Information.
Features you can count on7,12
*0.5- to 1.2-mL range. Each single dose pre-filled syringe contains 300 ug (1500 IU) of Rho(D) Immune Globulin (Human)